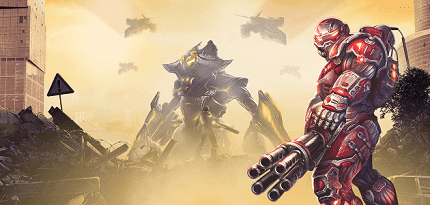 Mercs of Boom is a fascinating turn-based strategy game in which you become the head of your own military corporation.
In the game, you have a hi-tech base at your disposal, along with the most sophisticated of weaponry and a squad of professional fighters.
The future of humanity is in your hands, commander.
What is really Mercs of Boom Game about?
Meanly, this game is in future in the year 2040 when a new natural resource was discovered on the planet and this arises a a battle on the planet for this new resource, but this new resource has a radiation effect which resulted on the monsters created by this radiation to force human to hide and protect themselves.
on this game you will run your own military corporation with big guns and make your own military tactics to fight the threat that faces the planet and wipe it off.
On Mercs of Boom Game:
• Experience turn-based tactical combat and deep strategic game play.
• Supply elite soldiers with tons of equipment: hi-tech armor, deadly weapons, implants, and gadgets.
• Upgrade your base and research futuristic technology to gain access to advanced warfare.
• Play anywhere, anytime, and even offline to stop the threat in an epic campaign.
Mercs of Boom v2.0.20 - info:

| | |
| --- | --- |
| Name: | Mercs of Boom |
| Version: | 2.0.20 |
| Apk file Size: | 66M |
| OBB file Size: | null |
| Required Android: | 5.1 and up |
| Last Updated: | March 13/2019 |
| Developer: | Game Insight |
| Play store link: | see below |
What's new in Mercs of Boom v2.0.20
Support and wings!
Welcome the newest addition to your wardrobe, the Seraphim armor set!
Seraphim armor, Prototype A, and Arbiter armor can now be sold and fully upgraded with chips.
Entering all types of UFO's now requires 1 genetic tag; the cost of opening a container depends on the size of the UFO.
Major improvements for Android devices with notches and various display aspect ratios.
A lot of things fixed here and there. The game is now more stable and works better overall.