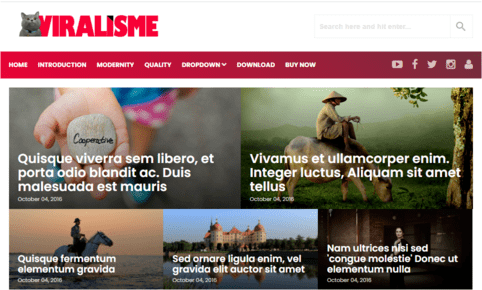 Viralisme free Blogger template is a well designed customized neat simple codes to suite any magazine blogs, Personal blogs, fashion and news magazine blogs that have niche targeted o those topics also other similar personal blogs can use this viral blogger template on blogsoot.com blog hosted o google free blogger platform.
If you are looking for a mobile responsive blogger template this theme is the best choice for you with fast page load and well optimized for best seo result, we shared in a previous posts earlier movies blogger template mobile friendly and responsive template, you can check this theme and download premium template for free.
Viral blogger templates are not wide distributed on the internet for free download without paying money, but this Viralisme blogger template is free to download in its tow different versions, free and premium. You can install this free version on your blog and customize its html, css and javascript codes to be as your own designed template by adding 7your own style to the theme.
This Viral blogger theme created with a responsive layout that makes it to be displayed on all kinds of screens, desktop, mobile tablet. It is ads ready with a customizable widgets for different ads formats. Viralisme theme is categorized as Premium blogger template, seo optimized with smaller size javascript codes and css for better page ranking on and search engine google, bing, yahoo or yandex.
Viralisme Template Features
Any blogger template has some features either they are few, goog or bad and also for sure has pros and cons, they may suite your need or not from seo optimization, mobile responsiveness to sidebar widgets. Here are Viralisme some features.
It is Viral blogger template theme
Seo optimized codes html, css, javascript
Mobile responsive template - all screens
Ads ready for monetized blogs
HTML5 supports
Page speed load optimized
Featured posts widgets per your need by tags
Responsive Sticky header menu
HTTPS/HTTP conflict
Ads ready, Adsense and other ads network
Responsive Sticky sidebar
comment plugins: Blogger, Facebook and Disqus comment
Label/tag related posts under any article
viralisme blogger template versions
This viral blogger template comes in two versions, free and paid version though they are all the same in design but a paid version comes with additional features that you might want to enjoy.
In free version you are limited to one domain installation as its designer stated that, but honestly, you can set it up on more than one domain.
You will never get template update on free version.
No following template set up are available:
theme color, Change global typography, Basic SEO settings.
On the other hand, on paid version which coasts only about eight Dollars ($8.00), you will get all above pointed features we mentioned included when you buy your premium template version with additional things you will know more about it on payment page.
Additional Viralisme blogger Template Features
| | |
| --- | --- |
| Responsiveness | mobile and desktop |
| Google insight Validator | passed successfully |
| SEO optimization | True |
| Mobile Friendly | All mobile screens |
| 404 page | css html 404 page |
| Page load time | optimized |
| News Ticker bar | not added |
| Featured Slider | not added |
| Featured Post | Tag featured posts |
| Email Subscription | Added |
| Ads Ready | absence + any ads networks |
| Footer Columns | zero footer columns |
| Other Widget | see viral is me Demo |
How to install viralisme seo optimized blogger template on blogger
You can install this blogger template in simple easy way either by using your desktop, tablet or even on any touch screen mobile.
Download from the link provided below this template zip format file.
Locate the downloaded file that contains viralisme blogger template on your device.
Then extract it with your preferred zip file extractor to get viralisme.xml file.
Open this file on any text editor and opy all content.
Go ahead to your blogger account and chose your desired blog.
On theme, click on EDIT HTML and paste your copied viralisme.xml file content to clipboard.
Save your theme
Now your blog is live themed with viralisme blogger template.
Final word
No more additional words needed to be added, this template viralisme theme is best for your fashion, news and magazine blog. In this Seo optimized theme you have the opportunity to get higher rank on google search it dose not require script coding.