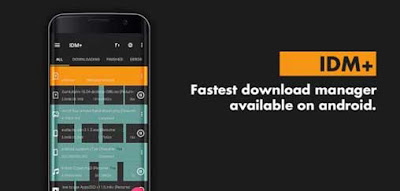 We know that almost everyone use IDM (Internet Download Manager) on his Computer because it's the fastest download manger used for computers and many people do not prefer to use their browsers to download files from Internet after using this Application.
Also IDM is available for Android Devices for those who don't have PCs or even didn't try it.
Internet Download Manager is available with different versions that can be run on Androids, IDM Lite, IDM+ or mod APKs.
If you are looking for fastest download on your Android you should try IDM+ application with the most awesome features.
5 time Faster than any other normal browser also with built-in browser so you don't need to use external browser.
IDM+ Awesome features:
first of all a lot of people annoyed with ads so this one doesn't have ads, it's free of ads and you can chose where to save your files whether internally or on external SD-Card.
If your file support resume, you can do pause and resume where you paused and also unlimited resume retry with ability to custom numbers of retry, if file supports resume. when you close your downloads still be running unless you force stop.
Supports all formats, archive files, music, videos, documents.. etc.. etc.. with more other.
Check this one - unlock config files:
Latest epro Opener.0.3.6 and how to unlock Eproxy config files
IDM+ Built-in Browser
you can browse internet on the built-in browser, search for your files on google search or whatever, with multiple tabs supporting, bookmark your preferred tabs to browse them later with history and also incognito mode.
Also Supports multiple web browsers that you can download your files from them them through this Downloader, including default Android browser, Chrome, Firefox and others.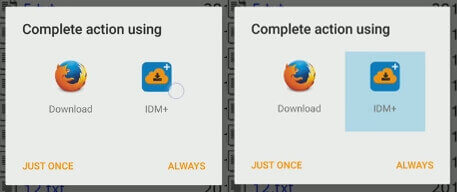 There's something that is not supported which is downloading from youtube but you can try using savefrom.net The fastest free YouTube Downloader.

Things NEW on IDM+ latest version 11.4.1
There was an issue when trying to in using google account, now this problem is gone,
Some users reported that this is issue still found , here ho to solve it:
by clearing DATA on home screen Menu from IDM+ or just go to setting, this Applications, thenIM+ and clear DATA and Cache.
Mod version runs on armv7 Devices.
Download IDM internet download manager