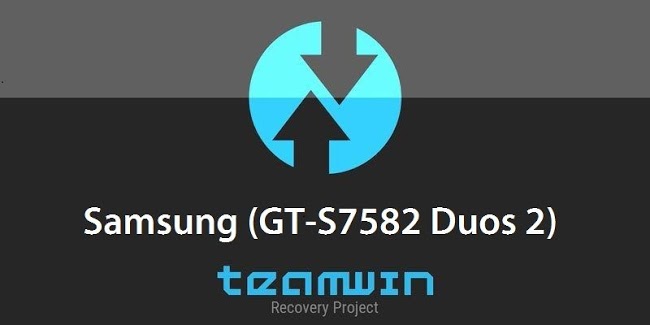 Samsung Android smartphones have updates regularly from official manufacturer but some do not.
Samsung S Duos 2 GT-7582 officially comes with stock recovery, but you can flash TWRP Custom Recovery into it easily with few steps and certain files.
TWRP is very good for making backups, installing zipped files, resetting device into factory set, and so on. There are tow type of ways to flash TWRP Custom Recovery into Samsung S Duos 2 GT-7582, one of them is via Odin Downloader which I really prefer.
How to Flash TWRP custom Recovery into Samsung S Duos 2
Flashing TWRP recovery requires things that you should have before getting into this process as we have that in installing TWRP on Galaxy note 5 and they are as follow:
A computer or PC (Laptop).
USB cable to connect your Samsung S Duos2 to PC.
Samsung USB Drivers
Odin Downloader
TWRP.S7582.tar.md5
NOTE THIS:
Before start flashing TWRP Recovery,
first install this tow files on your PC:
1.Samsung USB Drivers.
2.Odin Downloader.
And Know where the destination of this file TWRP.S7582.tar.md5 on your Pc. links or files are include in this post below so just keep reading
Also See this post: Update Samsung GT-s7582 DUOS2 to Lollipop 5.0
HOW TO FLASH TWRP RECOVERY on Samsung GT-S7582
Follow this way to flash TWRP:
Before you start Making back up for your Data and apps is preferable, Make your phone ready for the process by preparing your phone's Battery to be charged at least over 60% (because you may need to restart your device and in some cases battery status) and enable USB debug, this needs developer options to be already activated.
How to Activate Developer Options:
To activate developer options go to:
Settings > More > About device, click on build number and press on build number seven times till developer options activated then in developer options tick USB debug.
What Next Step Is:
Go to your PC and install ODIN Downloader and make sure that TWRP's destination on your PC is known for you. Install Samsung USB Drivers on your PC.
then:
make sure to take of the back cover of your phone you'll need this to make it ready when you flash TWRP.
Now reboot your Phone into Download Mode by pressing these three buttons together at the same time simultaneously:
Power button + volume down + Home button.
till your device boot into Download Mode. Connect your phone to your PC with USB cable. Now open Odin Downloader on you PC and you'll see added on Odin Downloader.
Click on AP/PDA and navigate to where you have located the TWRP file.
Odin will take a few seconds to detect your file then you'll see start button can be pressed.
Press start:
A few seconds the file will be flashed and your phone will reboot automatically. when you see PASS on Oden Downloader, take off the battery immediately and don't let your phone completely restart because it'll get back to stock recovery.
How to Boot Into TWRP Recovery
To boot into TWRP Custom Recovery, just press these buttons together simultaneously:
Power button + Volume up + Home button.
Then your phone will boot into TWRP Recovery Mode and on the top left corner of your phone's screen you'll see a red exclamation mark, (!) and that means you're DONE.
Finally, you can flash any compatible ZIP file into your device and much things in this easy way.
steps To flash any zip file you want:
reboot into TWRP Recovery mode and press:
install
then navigate to your file, slide to install the zipped file.
To reset you phone to factory set:
press wipe (you can just slide to wipe)or select:
Cached data Dalivk cache Data and slide to wipe.
Download TWRP recovery files:
Download Odin Downloader Download Samsung USB Drivers Download TWRP.S7582.tar.md5