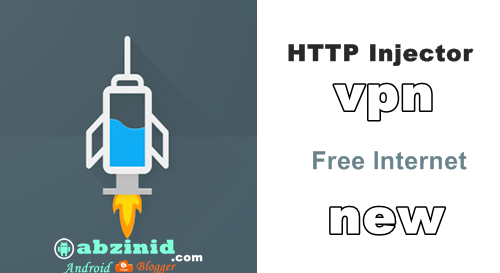 Http injector vpn is a ssh vpn proxy almost used with ehi config file to get free internet and access blocked websites due to geo restriction by hiding your real IP address and substituting it with another one in a different location provided in ssh server account when created in some websites such as fastssh.com, cloudssh.us and similar web sites. Unlock all blocked website when encountered with such blocking (this this service is not allowed in your country) or similar.
Http injector vpn proxy needs certain configuration as we have seen that on how to create http injector payload and also may require ssh account to create on third-party websites beside remote proxy ip to get full internet access.
This vpn app is widely used in Nigeria, Brazil, Philippine, South Africa and other countries, the thing that makes it gains this popularity is that some people get free internet access on some SIM data packages provided for free.
Another http injector vpn: HTTP Injector lite apk 2022 latest version 5.4.0 B(14222) new update
One month + lifetime ssh accounts: List of Free Fast SSH account providers, ssh 7-30 days + SSH lifetime accounts
HTTP Injector Pro apk 2023 - info:

| | |
| --- | --- |
| App Name | HTTP Injector vpn SSH V2ray |
| apk Version | 6.0.0 (198) |
| Apk file Size | 26.91 MB |
| Package Name | com.evozi.injector |
| Required Android | 4.1 and above |
| Update status | Latest version |
| Last Updated | 08 September 2023 |
| Developer | Evozi |
| License | Free vpn |
| Play store link | available |
Http injector ssh proxy vpn top features
By using this android app http injector ssh proxy vpn you may need to give it some required app permissions before it is fully installed on your android device and all http injector features available for you which are:
Your internet connection is encrypted and no one can know real ip address.
You can use a custom DNS other than that provided by your ISP, google DNS 8.8.8.8 or cloudflare DNS 1.1.1.1
With Build in Shadowsocks you can use http injector without payload or ssh server account
Data compression is available to speed up your internet connection
You can share your internet with other people with wifi hotspot (root access not required)
You have the ability to encrypt your ehi config file when saved
You can provide a custom message on your ehi config file for other users
You can set an expire date for your saved .ehi config
How to import ehi config file on http injector vpn
When you are using http injector you may find a lot of created ehi config file uploaded on telegram, facebook or other social media platforms.
The easiest way is as simple as this, download ehi config then press this file when prompted chose http injector and click start to connect also you can do it as below:
Download your desired ehi config file
Open http injector vpn
on top-left corner there are three dots, click them
next, click on Config
Then Import Config
On your SDCard navigate to ehi config location and chose your file
your downloaded ehi config file imported successfully
Now click start to connect
All Done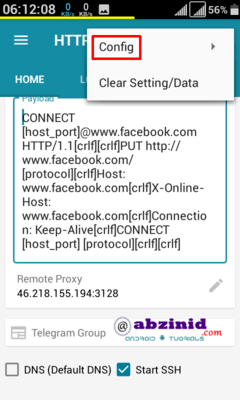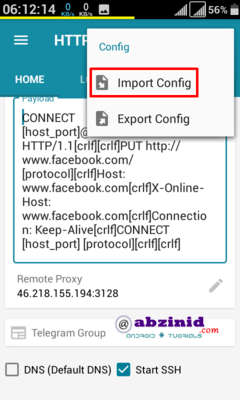 How to export ehi config file on http injector ssh proxy vpn
Exporting http injector configuration file is similar to to above if you follow steps to import ehi config file, here on the option Import Config you should click on export instead of import and follow all next steps:
After creating your ehi conf file
on top-left corner there are three dots
next, click on Config
Then export Config
Provide your desired name
on export config option: tick on ssh
on security/locking option: tick the tow provide option
Provide your message for other people to see when using your ehi config file if necessary
Next click on red the floating button and save
All Done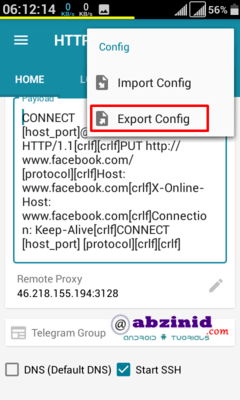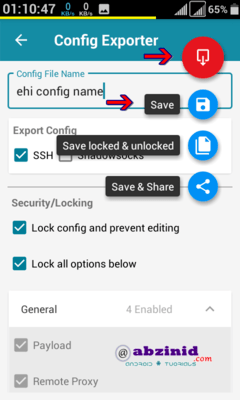 Droid vpn settings: Droidvpn apk settings for Netone Zimbabwe unlimited free internet browsing
Express vpn mod apk: Express VPN mod apk 11.7.0 unlocked 2023 premium Unlimited Trial
How to install http injector on Android
To install this apk file on your device there are no more requirement needed further than the normal installation of any other android apk file. But you need to activate install apps from sources other than google play store this can be can different from android device to the other.
On Smartphone mobile device main menu navigate to:
Settings
Then lock for security option
Then click on Unknown sources
On prompt, click ok
Then install http injector apk
What is New In HTTP Injector vpn apk
New updated version for 2023 new year, it is up to date apk for android devices.
latest http injector 5.7.1 apk 2023
[Added] Support wss custom path
[Fixed] DNSTT config import
[Fixed] v2ray URI import/export (trojan, grpc, path)
[Fixed] Direct + Payload connection error
[Fixed] Host checker proxy
http injector 5.7.0 apk 2022
[Added] DNSTT (Slow DNS)
[Added] Android 13 support
[Added] New export config options
[Added] CDN finder
[Improvement] SSH connection speed
[Improvement] Connection and reconnection logic
[Improvement] Reduce app memory usage
[Fixed] Bug fixes and performance improvement
Websocket CDN/Proxy support added in new http injector update
Websocket CDN payload error fixed
Import config error now fixed
Export unlocked config issue fixed
Hotshare repeater for Android 13
Bug fixes and performance improvement
v2ray required plugin version 1.4+
Fixed - Import config error
Fixed - Export unlocked config
Fixed - Hotshare repeater for Android 12+
Improvement - Bug fixes and performance improvement
What is new HTTP Injector latest version 6.0.0
HTTP Injector vpn update version 6.0.0 Build (198)
Compatibility for Android 13
New update v2ray v5.7.0 , xray v1.8.3
v2ray/xray plugin not required anymore
Improved UI and Design
Added UDP VPN protocol
Added xray Reality support
Added Hotshare with SOCKS and usage stats
Added STUN discovery & DNS tunnel tester
New Custom TLS version
Some Bugs and crashes fixes
HTTP Injector vpn apk 2021 change logs
latest http injector 5.5.1 (158) apk 2021
Added Auto off hotshare if VPN disconnected option
Added Terminal check option and multiple hardware ID lock
Added Server status in main page
Fixed Trojan v2ray config parse error
Fixed V2Ray - config issues: Mux, KCP, TCP HTTP header
Fixed Pro version missing
Fixed Hotshare checkbox button
Updated Translations
http injector 5.5.1
[Fixed] v2ray getHostAddress error
[Fixed] v2ray bug fixes
http injector 5.5.0
[Updated] Latest stable v2ray
[Fixed] v2ray DNS issue
[Improvement] Bug fixes and performance improvement
[Added] V2Ray support and Android 11 support
[Updated] Shadowsocks, SSH tunnel
[Improvement] UI, Speed and performance
[Fixed] Bugs and more.
http injector 5.2.4
(stable)
[Fixed] VPN revoke crash and bugs
http injector v5.2.3
[Fixed] Connection crash, Incorrect root detection
[Added] More v2ray shadowsocks methods
http injector apk 6.0.0 (198) Download latest version 2023
The latest version for this vpn application provided below with direct download link with previous version available too, if the apk we have provided on link is compatible with your device you can try to download this http injector from google play store link below.