create or run ehi config files (.ehil) on HTTP Injector lite the latest version 4.5.8 on Android devices, this app is for free to download and use without restriction and payment needed.
Browse free Internet ( private and secure browsing) using this android app by creating your own config file or import other config file created on this version, every version has its own config file that supports it.
Http injector lite is the same as the normal http injector vpn but with some features that makes different, it's lite in size and more stable and data consumption and support almost all Android device versions.
http injector lite Tunnel Types
you can use http injector lite with different type of tunneling that is provided for use, many users stick on only one type but you have the options to chose per your need.
- HTTP Proxy + SSH
- SSH Only
- Shadowsocks
- SSL (TLS)
http injector lite config file Mode
config file this application has some mode provided you can chose when creating you ehil config file first you can import already created config file or export your own file to share with other people.
you can make your http injector lite config encrypted and no one can see its content, payload, ssh server, proxy server, username and password unless the they have the proper ehi opener tool
you protect your config file with password and restrict it to non-rooted devices or make it for all devices and set a certain date your file be working and after that your config file will be expired.
you can provide a message for whom will use your config file, such as providing a url address for your social profile, then they can follow you.
and some other mode available..
How to use http injector lite On android:
Download your config file then Import that file created by other users.
or
create your own http injector config file by using build-in payload generator
We have shared http injector lite config file download for mtn and sedc on the previous pots with high quality speed servers, you can check them back on those posts.
http injector lite top Features:
Access any website and service on the Internet and secure your identity.
Secure your Android device from hackers and online threats when using a public WiFi.
Secure your connection using SSH or Shadowsocks tunnel.
Root access is not needed.
Specify alternate proxy servers to send a request through.
Provide alternate headers and ability to strip headers from incoming http responses.
Build in SSH client.
Build in Shadowdowsocks client.
Support Payload Generator.
Apps Filter.
Support Android 4.0 and up to latest android.
Google DNS and custom other DNS Proxy.
Data Compression for best internet speed.
Ability to change buffer size, etc.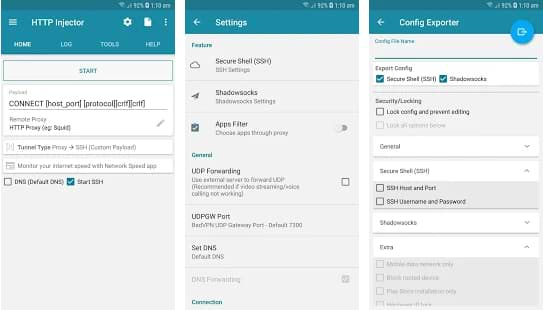 http injector lite - info:

| | |
| --- | --- |
| Name: | HTTP Injector Lite - (SSH/Proxy/VPN) |
| app Version: | v4.5.8 apk |
| app package: | com.evozi.injector.lite |
| Apk file Size: | 5.2 MB |
| Android Required: | 4.1 up |
| Last Updated: | March 11, 2020 |
| Developer: | Evozi |
| Play store: | available |
See also have:
List of Free SSH Tunneling account for ehi configs | 7 30 days plus lifetime accounts
HTTP Injector lite permission
open network sockets
access to the vibrator
access information about networks
access information about Wi-Fi networks
change Wi-Fi connectivity state
read from external storage
change network connectivity state
write to external storage
read only access to phone state
prevent processor from sleeping or screen from dimming
Download http injector lite 4.5.8 apk
to install http injector lite apk on Android Device you may need to enable unknown source installation other than google play store if not already enabled.