Many android users use HTTP Injector free internet save and secure on their smartphone devices and a lot of them may not know that they can use it on their computers too.
If you have a computer you can use http proxy injector as well as you are using it on your on smartphone without limitation.
You can use it with already created files or you can create your own files as many users do, and I think it will be great if you do so and create your own file yourself, because you will not be depending on other people to create any file for you and beside that you will have a lot of options and will be free to choose from different option and choices.
Another option is to have that config files which are created but locked by other user and unlock this ehi config files and get payload and proxy server to create your own files
why should I create files while I can get them already created by other people
Of course when you create your own file you will be free for sure free to choose whatever ssh tunneling server you want and exactly the fastest one you prefer.
You can chose your desired remote proxy and the very important thing that you should consider is the host and the ssh tunneling server time expiration (other users or people who will provide you with such files almost expire in three days or seven) and beside that files that has been created by other people sometimes may not fit with your existed HTTP Proxy Injector version even it will not load onto the app.
Napsternetv v2ray vpn: Download NapsternetV vpn 62.0.0 (292) apk + configuration files for free internet
TWRP Samsung DUOS2: How To Flash TWRP Custom Recovery On Samsung GT-S7582 Duos 2 full steps
Can I create HTTP Proxy Injector file my own self for my PC
absolutely yes, if you know the steps to create HTTP Proxy Injector files to make it runs properly on your computer without any error messages.
All you need is to have the app installed on your computer and have the file required info or data to create it such as the Host, ssh server account details and the remote proxy and if you have an already created payload it will be better other details very easy to get.
Also put in mind if you have all requirement from payload to remote proxy and ssh tunnel server account up to date you can't create a file unless you know how to do that because http injector on smartphone is different from the PC even if you know how to create ehi config file on Smartphone.
On new versions of http injector that released this there is an awesome features that enables you to usehttp injector without payload and ssh account so you don't need ehi files but this feature is in Beta stage.
.Kpn Config opener: Latest kpn config opener version for Android
.KCR Config Unlocker: Unlock Kpn Tunnel Revolution with Ktr Opener get payload, ssh server, and password
How to create your own file for HTTP Proxy Injector to make it works fine on your PC
To make this app runs perfectly on your computer or PC without any errors you just need to follow these a little bit few steps and you will get your aim and for sure you will enjoy using http proxy injector on your computer as you used to on your smartphone.
Download HTTP Proxy Injector from the link next below, the file is in a zip format you need to unzip it or extract it on your PC with whatever tool you use on your computer, it doesn't matter, it will request a password just copy and paste this password a-dev1412 after that install the app and run it.
HTTP Proxy Injector version
The top latest version for this tool is HPI_2.0.1.7 for windows desktop running on operating system 32bit, 64bit and XP32bit with full stand alone installation file with a direct download links for all mentioned windows versions supported.
To set it properly do this:
On injector (a button located on your right hand left to ssh) just tick tunnel and logo (optional) as you can see on the screenshot. On ssh fill in your information and tick bitvise and PF portable also tick auto reconnect at this point all things are done.
For payload it may be different from this shown on the screenshot depending on your host but if you have an already created payload it will be great, just paste the text on the blank space on injector and press START.. and now you're ready to browse.
Any Question, any issue, any suggestion please drop it down in a comment.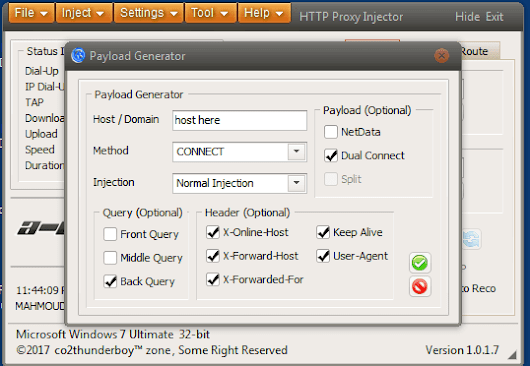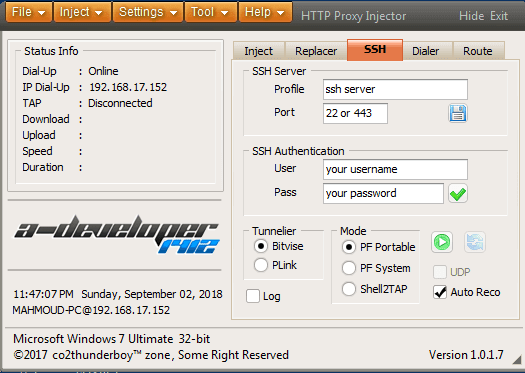 Updates:
Disclaimer:
Using http injector to hide your IP or bypass blocked websites or whatever purpose you are using this for may be useful if necessary.
Recently http Proxy injector for computer has been reported as harmful.
My advice is not to use it on your computer unless you know what you are doing. If you want to get http proxy injector from other web site, it is highly recommended to scan this file before making any installation.
By Downloading http proxy injector 2.0.1.7 for PC from this link you are acknowledging that we are not Responsible and we do not have any Responsibility for any harmful or damages that will result hereafter, or else you can download this file from elsewhere.
Always Be sure to read Privacy Policy of any website you want use or to download content, use service or any thing similar and also check their Terms of Use before proceeding.
Http proxy Injector 2.0.1.7 for PC
Full Installer 32bit 2.0.1.7 Http Injector v2.0.1.7 32bit Full Installer 64bit 2.0.1.7 Http Injector v2.0.1.7 64bit Full Installer XP32bit 2.0.1.7 Http Injector v2.0.1.7 XP32bit